Warner Bros. on Location London presents the "Harry Potter Photography Exhibition"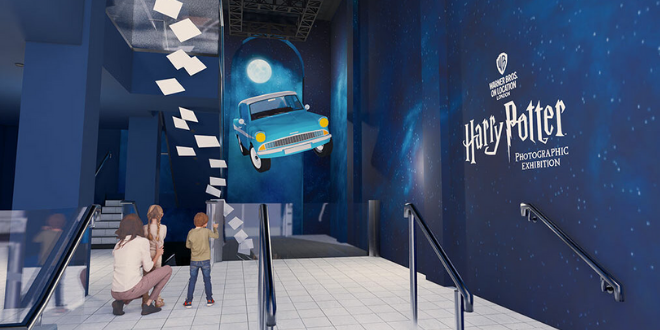 Warner Bros. will launch a UK exhibition of magical behind-the-scenes footage of the Harry Potter film series, with the only bottle of London [b]beer [b]ar
the Harry Potter photography exhibition will take fans behind the scenes [sic] of their favorite Harry Potter and fantastic beasts cinematic moments and memories.
The Wizarding World is recognized as one of the most beloved franchises in the world, representing a vast interconnected universe [that] touches every aspect of fans' lives. Beginning July 12, fans are invited to journey through memories of 10 years of creating movie magic in an exhibition of behind-the-scenes footage never before seen in one place. Home to hundreds of iconic photographs, the Harry Potter photography exhibition will take fans behind the camera through key moments in the film series, from Harry's first voyage from Platform 9 ¾ (one of many iconic moments from the first film, which this year celebrates its 20th [a]nniversary) up to the Battle of Hogwarts from the last film in the series.
Located in Covent Garden, the brand new attraction will feature hundreds of exclusive images never before seen together. Fans will discover areas inspired by the Ministry of Magic and Platform 9 ¾. the Exposure will also show how magic lives in the muggle world with areas dedicated to Harry Potter and the Cursed Child and fantastic beasts.
After viewing the behind-the-scenes footage, fans will be invited to strike a pose for themselves in a number of green screen photo opportunities. Fans will be able to pose as Harry and friends, using green screen technology, to ride a broomstick above London. Aspiring wizards and witches can don Hogwarts robes, climb on [sic] a broomstick and see how Harry and his friends were made to fly. For the first time ever, fans will even be able to pose for their very own Ministry of Magic. [i]identification [c]ard. Souvenir photos and videos of their adventures will be available for purchase in a variety of packages.
the Photographic exhibition will also house London's only bottle [b]beer bar! Fans can enjoy the wizard's drink of choice served in a souvenir mug at the exhibit [b]utterbeer bar or take a bottle to enjoy at home. Made and brewed in the UK, bottled [b]utterbeer has style [that] is completely unique and comes in beautifully crafted keepsake glass bottles, each featuring an exclusive collectible label designed by MinaLima, the designer duo behind the graphic accessories of the Harry Potter and fantastic beasts movies. Best served chilled and poured straight from the bottle, the delicious soft drink features a new twist on the caramel flavor fans know and love. The unique blend of top secret ingredients makes bottling [b]utterbeer a must[-]try for any budding witch or wizard.
Fans will enter [b]utterbeer bar, a space inspired by medieval times [b]utterbeer label, and be invited to sit inside a [b]barrel of beer or a copper brew kettle to enjoy their refreshing magic drink and wizarding-inspired treats.
The experience will end with a gift shop filled with fan-favorite merchandise, including [H]wear robes, character wands, and bottles [b]pronounced beer.
the Harry Potter photography exhibition, including bottle [b]beer [b]ar, will be open to fans on July 12. Tickets are available for purchase now at www.harrypotteronlocation.co.uk and must be booked in advance.