The photographic treasures of French cinema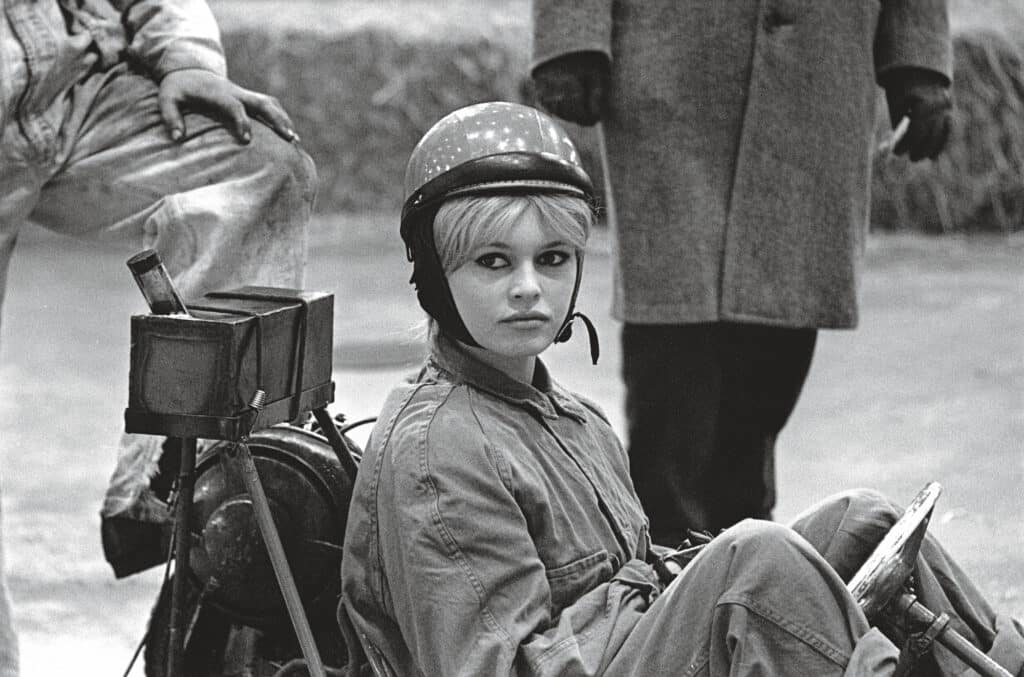 This archive of the work of Philippe René Doumic (1927-2013) reveals images that are personal, touching, even surprising. Born in Paris, the photographer worked for thirteen years, between 1957 and 1970, for Unifrance, taking more than 20,000 photographs to promote French cinema around the world. There is nothing conventional about his images that filter the secret intimacy between photographer and model. The poses are sometimes even anachronistic, like Jean-Luc Godard examining a film, a portrait that has become famous throughout the world. The photographer himself, however, went uncredited for decades. His daughter, documentary filmmaker Laurence Doumic-Roux, wants to give him back his rightful place and publishes his very first photography book in collaboration with Capricci Éditions.
A palette of emotions
The beauty of Jean Marais moves us. Anouk Aimée has a timeless grace. The seriousness of Jean-Claude Brialy is to be deciphered. Françoise Dorléac exudes a magnificent sweetness. Brigitte Bardot is comfortable in her kart. And Jean-Pierre Melville, without a hat or glasses, drops his mask and displays his affection for his cat, a facet of the filmmaker little known to his fans.
Philippe R. Doumic: The Eye of Cinema invites us to discover nearly 200 portraits of rare strength. "My father was a photographer of the look and the gesture, remembers his daughter, herself a filmmaker. "He didn't photograph them as stars. He went against the grain of the Harcourt style of portraiture based on studio and light, capturing images at the other end of the spectrum, with men by windows, women against trees, artists accompanied by their animals. . Everything seems natural, but everything is worked, thought out, strategic.
The book offers a broad look at his "freedom of invention". His portfolio goes beyond Unifrance's promotional photography ritual, in effect since 1949. Today, many of the rising stars he has photographed have become giants and some of Doumic's photos have gone around the world. . But the name of the photographer remained in the shadows.
Take a "real photo"
In her introduction to the book, Laurence Doumic-Roux paints a first-hand portrait of her father, depicting his family, personal and professional life, emphasizing his friendships with Françoise Dorléac and Jean-Claude Brialy, his thematic series, and his unique encounters with Alain Delon, Catherine Deneuve and Maurice Ronet. "My father was a quiet, altruistic and humble person who easily attracted sympathy and trust. He was able to establish a strong bond with the artists who allowed him to take these photos. What he liked was taking a "real photograph", a photo that did not correspond to the popular image of the artist. His portraits remain deep and precise; they are extraordinary, in the strongest sense of the term. He made his own black and white prints in his lab to keep things under control. For him, his profession was neither an art nor a profession, but a passion.
Philippe Doumic left the cinema in 1970 and became a reporter-photographer for various publications and art galleries. Then, fatal blow: his wife, Arlette Doumic, is suffering from Alzheimer's disease. He decided to retire at the end of the 1990s to take care of her at their home in Souvigny, in the Auvergne-Rhône-Alpes region, leaving the world of professional photography for good in the 2000s.
Uncredited photograph
After the death of his father in 2013, Laurence Doumic-Roux decides to put order in his laboratory, which he calls his "secret room", and finds boxes of photos and negatives that have been dormant for sixty years. She brought these precious archives to life in her documentary Philippe R. Doumic: Under his gaze the spark (2019) (streaming in France on OCS). This is the report of a fascinating investigation carried out jointly with Sébastien Cauchon, collector and member of Unifrance, to understand why this photographer was so little recognized by his peers. Above all, the film sets out to discover how it is possible that Jean-Luc Godard's famous photograph was exploited without a single word of thanks: by magazines, such as the Cinema Notebookson social networks and in all kinds of derivative products.
The story of this photograph remains perhaps the most edifying of the narrative. It is an "injustice", a "crime", an "omission", which has allowed "counterfeits to be sold sometimes at high prices", noted Doumic-Roux. She intends to repair, retracing the vicissitudes of the job of still photographer in the 1960s, relegated to the rank of "servant", citing the fight of Raymond Cauchetier, who fought for the recognition of his copyrights.
"My father's name originally appeared on all Unifrance files, but as they passed from hand to hand, his name was erased. Some image banks have not failed to overuse the fact and sell the image as uncredited. This orphan photo has gone down in history. Doumic-Roux adds in a sardonic tone: "Even at the time, one would not look at the film in this way. Godard did it at my father's request. It was a symbolic way of identifying Godard.
Obtain recognition
After the death of Jean-Luc Godard, the September 13, 2022, the photograph has been reissued, this time credited to the author. "My efforts over all these years have not been in vain," says Doumic-Roux. "It haunted me more than my father. I think at the time he was unaware of the significance of the photo.
The beautiful book, edited by Capricci, is a wonderful complement to the film, and highlights the work of Philippe R. Doumic, alongside film screenings and exhibition projects in France, and even in Hollywood. "For me, it would be unthinkable to let his work languish in the shadows. And I have more ambition. I would like it to shine as much as this painting by Godard, with an extraordinary visual force.
Laurence Doumic Roux, Philippe R. Doumic: The Eye of Cinema, Capricci Editions, 2022, £35, 240 p.