Professional Photographers of America Announces Grand Imaging Award Winner and World Photographic Cup Best of Nation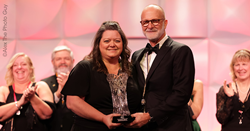 Smith's photograph was selected from more than 5,000 entries by a jury of 36 professional photographers.

NATIONAL HARBOUR, Maryland (PRWEB)
January 28, 2022
Professional Photographers of America (PPA) last week hosted the Grand Imaging Awards at Imaging USA, the largest annual conference and expo for professional photographers. The 2022 Grand Imaging Award winner went to Kimberly Smith, M.Photog.M.Artist.Cr., CPP, for her "Grace" image in the Child Portrait category. Smith's photograph was selected from more than 5,000 entries by a jury of 36 professional photographers. The entire show is available to stream here.
The Grand Imaging Awards encourage photographers to improve their craft and creative process by participating and receiving feedback through competitions. This year, Smith's image was considered by jurors as the best of the images to be included in the prestigious Imaging Excellence Collection. This selection of photographs is published annually by Marathon Press as a hardcover book.
Smith was selected as the winner from a group of 117 category finalists. All of this year's finalists, along with their images, can be viewed here.
PPA also rewarded the medalists of the International Photographic Competition. At this year's ceremony, PPA awarded 58 bronze, 81 silver, 103 gold, 79 platinum and 58 diamond medals.
The evening ended with a presentation of the images selected for the American team at the World Photographic Cup, the "Photography Olympics". The competition includes 35 countries who will compete in Rome, Italy in March 2022. Cheryl Moore, CPP, received the honor of "Best of Nation" for the United States.
PPA provides multiple opportunities throughout the year for photographers to receive feedback and recognition for their work. The District Photography Contests take place May 16-19, 2022. This is followed by the International Photography Contest September 11-15, 2022. The PPA contests are open to all photographers. For more information, visit PPA.com/Competitions.
About APP:

Professional Photographers of America (PPA) is the largest and oldest nonprofit photography trade association. Founded in 1868, PPA helps more than 32,000 professionals elevate their craft and grow their business with resources and education, all under PPA's core guiding principle of bridging the gap between photographers and their consumers. To learn more, visit PPA.com.
Share the article on social networks or by e-mail: